2020-2021 Season
Note From the Exeutive Board
With registrations complete and as we enter summer, the LCWTL is continuing with its off season work of preparing the play schedules and the book. We are hopeful we will be able to have a full tennis season but are preparing otherwise. With the safety of our players in mind, we want to assure you that we will make decisions based on current circumstances and will follow local and state guidelines. As the summer progresses, we will provide updates as to any Covid related changes for the upcoming season. Because of the unpredictable nature of this virus, our contingency planning will require a fair amount of flexibility. As this may likely be an unusual upcoming season, we appreciate your patience and understanding as we navigate through these challenges.
Team and Player registration is complete.
Captains: To add/delete members of your team, complete a Roster Change Request and your division officer will add or delete the player. Only players listed on your team will receive a book. See below for more details and on how to add players to the database.

If you have questions or concerns contact the your Division Secretary, or League Officers.
League Officers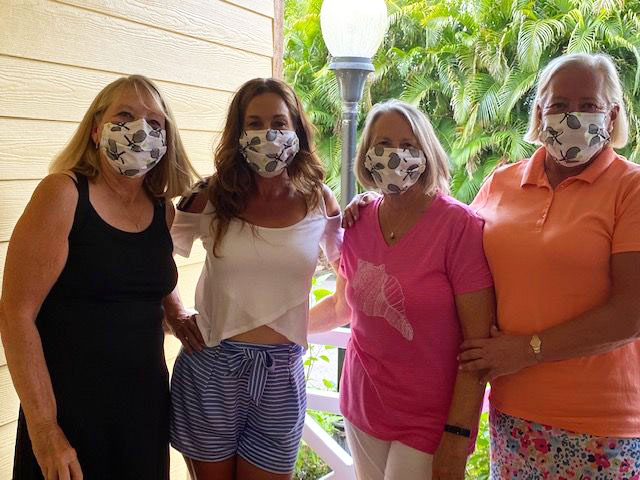 Emalee, Tiffany, Charlene, Randi
Not quite "Socially Distant" for the photo but these ladies, wearing fabric tennis masks, are the LCWTL Officers for 2020-2021. Thanks Emalee for making the fun masks! Click on the links below to email any questions you may have for our new Executive officers:
Go to Contact Us to unmask them!
**Updated** Clubs with Teams that need Players
The Forest: 3.5,3.5- and Copper. Contact Janet Choisnet 904-333--9634
Renaissance: 4.0- and Cobalt. have room for 4.0- players. Contact Marilyn Brummer 239-357-4707 or Rita Garvin 317 345 5340
Heron's Glen: 3.5, 3.5-, 3.0- and Bronze. Contact Gayle Kloosterman 248-408-8267
Judd Park: Bronze. Contact Rita Tibbetts 585-208-1448
Captains
Please use the email address and password you have in your Personal Player Account to Log in to request roster changes.

To add/delete players send a Roster Change Requst to your Division Officer. For full details read Form 8A - Change in Roster Instructions
Go to Teams and Players and select Roster Change Request
Log in with your personal email and password
Select the player to be added or deleted and click the Request button
Adding New Players to the LCWTL and Name Changes
Send an email to the LCWTL Associate Director to add a new player to the database. Send the players' name and her rating.

The player adds her telephone number, date of birth, and signs the agreement in her Personal Player Account.

You can also send any spelling corrections. A player can correct her own telephone numbers under Personal Player Account.

Include players name, rating, USTA rating if she has one, club and team.
Troubleshooting Email Issues
Some AOL, Hotmail, and Yahoo email addresses have issues receiving emails from lcwtl5.com. We are not receiving any messages that tell us that our emails have NOT sent. Please review Chapter 5- Going Around Spam Filters at www.htmlemailguide.com/table-of-contents
Consider adding donotreply@lcwtl5.com to your contacts list, or safe senders list to help with email issues from our server.
Meetings and Minutes
LCWTL Board Meetings are held the first Tuesday of the month, October to May. The date changes to a link when the minutes are posted.
Meeting Dates
Oct 6, 2020
Nov 3, 2020
Dec 1,2020
Jan 5, 2021
Feb 2,2021
Mar 2, 2021
April 6, 2021
May 4, 2021
Yearbook
The LCWTL Yearbook (revised April 2019) is provided to all players who are registered by August 1. Below you will find the up to date Yearbook, in sections, so you may print it easily. The LCWTL By Laws are also posted here.
LCWTL By Laws (Revised April 2019)
2020-2021 LCWTL Rules and Regulations
On Court Rules (Revised April 2020)
Player's Creed
"The game of tennis requires cooperation and courtesy and places the responsibility for fair play on each player.
As a member of the Lee County Women's Tennis League, I will abide by this concept and by the rules of the game and compete with the true spirit of sportsmanship, always giving the benefit of the doubt to my opponents.
WIN or LOSE, I will conduct myself in a way that HONORS my opponents, my team, those who support me, and the game of TENNIS."